ADRIANNE GREENBAUM, pioneer of the klezmer flute tradition, recognized as the "Queen of Klezmer Flute", Professor of Flute at Mount Holyoke College, is the foremost purveyor of the klezmer flute tradition.
Having reached International acclaim as both a klezmer and classical flutist, Adrianne performs on modern, traverso and 19th c. flutes. 
She has performed in many national and international festivals and conventions: as soloist with orchestra at the National Flute Convention, solo recitals at the British Flute Convention, full concerts in the KlezMore Festival in Vienna, tours in US, Scotland and Poland with a variety of narrated themes that are both informative and highly entertaining, with dancing in the aisles being a must.
Adrianne Greenbaum is a nationally acclaimed flutist and clinician, performing on historical instruments of the 18th and 19th centuries and modern Boehm system.  
Having received her upper level degrees from the Oberlin College Conservatory and Yale University School of Music, she has held professorships for five decades at prestigious colleges and universities previous to Mount Holyoke, those being Smith, Yale and Wesleyan. With performances of both klezmer and classical concerts across the globe, her career ranks amongst the finest musicians of her time.  
She began her career as a classical musician, maintaining her presence in the field performing recitals at universities, conventions national and local – Brittish, National Flute Association, New York to name a few - and as an orchestral musician as Principal of both the New Haven Symphony (recently retired) and Orchestra New England. Highlights of her presence in the classical arena included many years performing with the New York City Ballet Orchestra, performances with New York's Mostly Mozart Festival, and as Principal flutist with Berlin Ballet at the Met. She can be heard in recordings of her own solo album "Sounds of America" as well as those produced by Koch International and Music Masters labels.  
As a klezmer flutist Adrianne has been crowned The Queen of Klezmer Flute, thanks to both a press comment and public opinion. Rising to prominence early on with her first album "FleytMuzik", performing with stellar musicians Cookie Segelstein, Josh Horowitz and Marty Confurius, attention was quickly and easily drawn to Greenbaum as the foremost exponent and pioneer of the klezmer flute tradition, a position held in high regard by her esteemed colleagues. Audiences as well have come to truly appreciate the instrument's special qualities because of such high level performing on the long-forgotten instrument of the ensembles of the past.  
Her FleytMuzik albums, with the above-mentioned musicians and more recently with Pete Rushefsky, Michael Alpert and Jake Shulman-Ment, as well as an earlier recording Family Portrait, produced by her first klezmer ensemble "Klezical Tradition", have been firmly placed in the core of the klezmer output of the late 20th and now 21st centuries. Her latest recording project Farewell to the Homeland: Poyln gained an appreciation from the public and from colleagues alike for connecting early klezmer bands of Poland – in particular the Frandt kapelye of Dubiecko, Poland – and continues to be presented in narrated form in concert. Other themed concerts with FleytMuzik include a narrated A Khasene far di Zisn Kale and her touring show Tartan, Baroque and Klezmer!  
A recently added klezmer project is the formation of "di naye froyen kapelye" a super group of five prominent North American women in klezmer, with Cookie Segelstein, Marilyn Lerner, Susan Watts and Lauren Brode.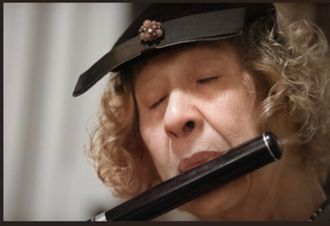 ADRIANNE has involved herself with teaching at all levels, from the day-one experience of flute playing, to coaching professionals on the fine distinction of colorful tone production, period performance practice and making music come alive.  Beyond her private studio she has taught at many adult programs:  KlezKamp, KlezKanada,  KlezmerQuerque, Boxwood Festival (Nova Scotia) and Santa Fe Flute Immersion. Known as the Flute Pioneer in the klezmer world, Adrianne leads workshops wherever she travels: England, France, Austria, and across the US. She is a published composer and arranger of her own compositions of flute choir and of flute and orchestra music. 
RECORDINGS: You will find my records on the "Shop" page in the menu. The hard copies are for those who wish to read my detailed liner notes. For digital, iTunes carries all but "Sounds of America" which you will find on my BandCamp account by clicking on the link. 
To whet your appetite, you can peruse Youtube by typing in my name (Adrianne - with an "a") and flute OR take a listen to this fun video I have selected for you! (Epic fun times for me, with Michael Alpert, David McGinness, and Lev when we toured in Scotland!)